Kajian Empiris Kepatuhan Wajib Pajak Pengusaha di Kota Banda Aceh
Keywords:
Taxpayer ethics, taxpayer compliance in entrepreneurs
Abstract
Empirical studies regarding taxpayer compliance with an obligation and obligation to be carried out for every citizen as fulfillment of citizenship in Indonesia, many business people in Banda Aceh City do not report their tax obligations correctly so that the level of individual taxpayer compliance is low and the tax service office as executor of state duties often conducts socialization so that entrepreneurs have a taxpayer ethic in fulfilling their obligations every year. The aim of the study was to determine the effect of taxpayer ethics on individual taxpayer compliance at KPP Pratama Banda Aceh. The research population is all registered WPOP in the city of Banda Aceh (KPP Pratama) using proportionate strafied random sampling technique on 100 entrepreneurs as respondents. The research findings show that the variable of taxpayer ethics has a positive and significant effect on taxpayer compliance in entrepreneurs in the city of Banda Aceh with the hypothesis that the results of simple regression analysis show that the coefficient value is 0.709 and t-count 9.959> t-table 1.984 and a significant level of p-value 0.000 <0.05.
References
Keputusan Menteri Keuangan Nomor: 235/KMK.03/2003. Tanggal 3 Juni 2003 Tentang Perubahan atas Keputusan Menteri Keuangan No.544/KMK.04/2000, tentang Kriteria Wajib Pajak yang Dapat Diberikan Pengembalian Pendahuluan Kelebihan Pembayaran Pajak.
Nsor-Ambala, R. (2015). Influence of Individual Ethical Orientation on Tax Compliance: Evidence among Ghanaian Taxpayers. Academic Journal, 7, 98-105.
Nurhadi, Abdurahman, (2003), "Sanksi Pidana Perpajakan di Indonesia dan Implikasinya Terhadap Kepatuhan Wajib Pajak". Tesis, Pasca Sarjana UI.
Permanawati, Dewi. (2007). Analisis Pengaruh Penerapan Sistem Administrasi Perpajakan yang Memanfaatkan Sistem Informasi Elektronik Terhadap Tingkat Kepatuhan Wajib Pajak Pada KPP Wajib Besar Satu. Universitas Indonesia. www.digilib.ui.ac.id.
Putra, Afuan Fajrian. (2017). Pengaruh Etika, Sanksi Pajak, Modernisasi Sistem, dan Transparansi Pajak terhadap Kepatuhan Pajak. Jurnal Akuntansi Indonesia, 6(1),1-12.
Qoriah, Desi dan Muslim Al-Kautsar. (2017). Pengaruh Etika Wajib Pajak terhadap Kepatuhan Pajak Dengan Pengetahuan Wajib Pajak sebagai Variabel Moderating (Studi Kasus Wajib Pajak Orang Pribadi yang Terdaftar di KPP Pratama Garut). Jurnal Wacana Ekonomi, 16(02),52-62.
Rahayu, S.K (2013). Perpajakan Indonesia: Konsep & Aspek Formal. Yogyakarta: Graha Ilmu.
republika.co.id, Banda Aceh (2023). Diakses pada April 2023 https://ekonomi.republika.co.id/berita/rspev7457/penyampaian-spt-di-aceh-tumbuh-1628-persen-pada-2023
Saebani, Beni Ahmad dan Sutisna, Yana. (2018). Metode Penelitian (Edisi Revisi). Bandung: CV Pustaka Setia.
Sarwono, Sarlinto W. (2005). Teori-teori Psikologi Sosial, Edisi revisi, Cetakan Pertama, Jakarta: Rajagrafindo Perkasa
Soemitro, Rocmat dan Sugiharti, DK. (2004), Asas dan Dasar Perpajakan I. Edisi Revisi, Bandung, Refika Aditama.
Sujarweni, V. W. (2020). Metodologi Penelitian Bisnis dan Ekonomi. Yogyakarta: PT. Pustaka Baru.
Tajib Eddy, (2007), Pengaruh Etika Wajib Pajak, Norma-norma Sosial dan Kesadaran Wajib Pajak Terhadap Tingkat Kepatuhan Wajib Pajak Orang Pribadi Pada Kantor Wilayah Direktorat Jenderal Pajak Jawa Bagian Timur. Journal of Economic, Universitas Airlangga, Surabaya.
Undang-Undang Nomor 16 Tahun 2000 tentang Ketentuan Umum dan Tata Cara Perpajakan.
Undang-Undang Republik Indonesia Nomor 28 Tahun 2007 tentang perubahan ketiga atas Undang-Undang Nomor 6 Tahun 1983.
Wenzel, M. (2005), Motivation or Rationalisation? Causal relations Between Ethics, Norms, and Tax Compliance, Journal of Economic Psychology, 26, 491-508.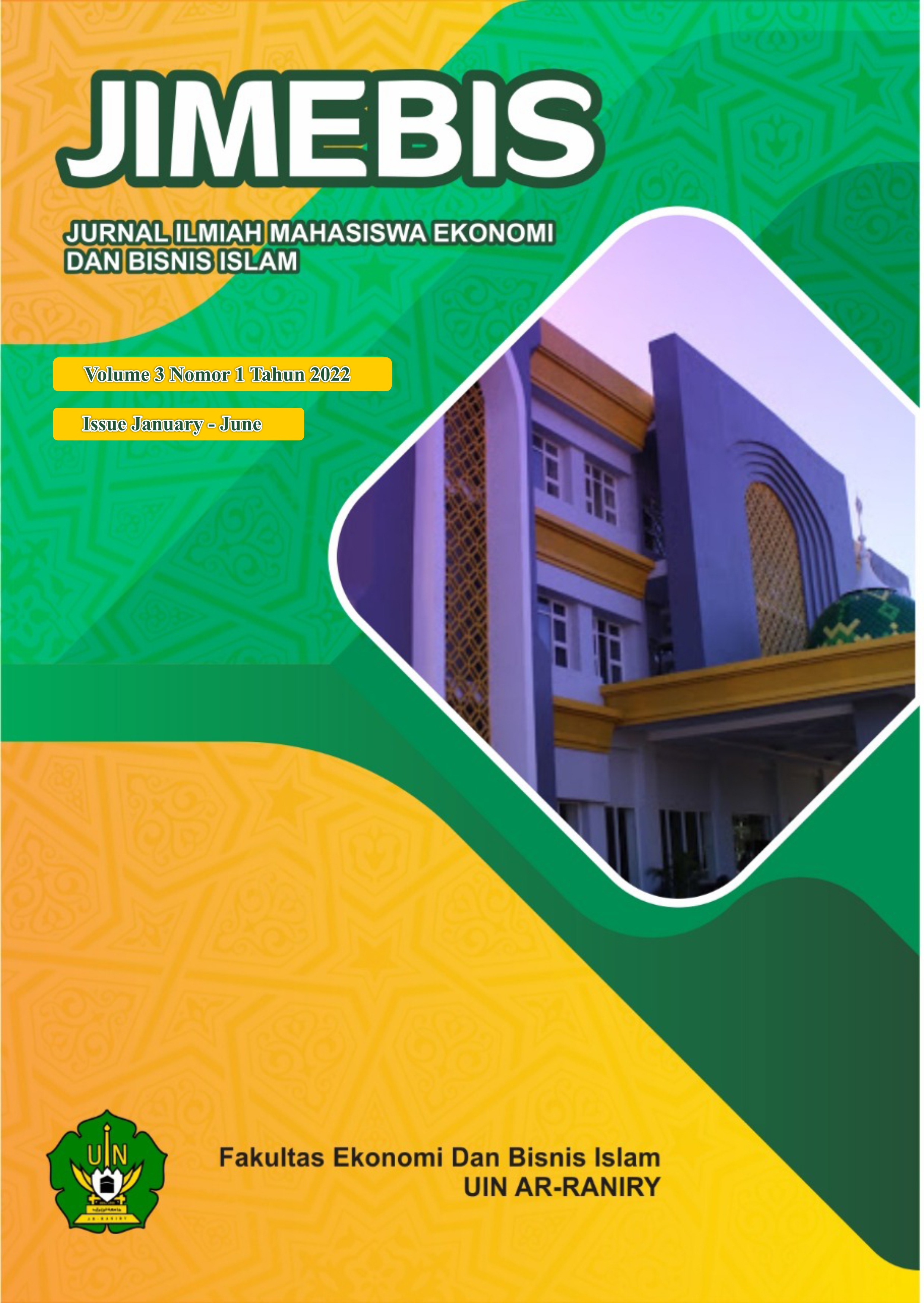 How to Cite
Riza, A. (2023). Kajian Empiris Kepatuhan Wajib Pajak Pengusaha di Kota Banda Aceh. Jurnal Ilmiah Mahasiswa Ekonomi Dan Bisnis Islam, 4(1), 46-54. https://doi.org/10.22373/jimebis.v4i1.312
Copyright (c) 2023 Akmal Riza
This work is licensed under a Creative Commons Attribution 4.0 International License.